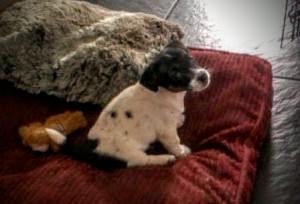 Puppies need care too. One of our team can make that all-important home visit to care for your pup whilst you're out, be that one or two visits a day.
In a 20 minute visit we'll take your puppy for a play in the garden, refresh their water bowl, serve a meal if needed and clean up as required. We can follow the training that you have in place for toileting, crate training and general obedience. We're happy to text you when we leave to give you peace of mind that everything is okay at home.
As your puppy grows and has had all its vaccinations, we can extend this service to taking them on a short walk, on their own at first but then with other suitable dogs which will provide excellent and essential socialisation opportunities for your young puppy.
And when they're older and ready for a longer walk they will be familiar with the routine of our team and the other dogs that we take out and will fit in happily and relaxed.
Puppy visit from – £8
Weekend and bank holiday visits, subject to availability, £12
We also have a 4 acre secure private field in Cheltenham which is ideal for puppies to explore as they get old. Please get in touch for more information on what services we can offer for your very special puppies
Give us a call, we're happy to help: woof@ourdogwalkers.co.uk / 07899 075660